ZoneSentry: The key advantages of zonal based PIDS
WEBINAR RECORDING NOW AVAILABLE
Bandweaver will introduce its latest product – ZoneSentry – a zonal based Perimeter Intrusion Detection System (PIDS) based on the company's leading edge fiber optic distributed acoustic sensing (DAS) technology.
This new perimeter intrusion detection system utilises state of the art fiber optic sensing technology to protect both property and assets with smaller perimeters up to 8km in an efficient and cost-effective manner.
Learn more about the key advantages of this latest solution:
A straightforward, out-of-the-box system that requires minimal set-up, configuration and maintenance
Integrates with CCTV cameras at both a hardware or software level
Minimises nuisance alarms with zone specific tuning
Provides many of the advantages of fiber optic sensing solutions at a lower price point for smaller sites where precise location accuracy is not required such as unmanned settings
By attaching a single fiber optic sensing cable to the external perimeter of a site, or on key assets, ZoneSentry can detect and alert to the vibrations associated with intrusion events, enabling rapid action to prevent damage or theft.
ZoneSentry is ideal for use in a range of settings including renewable energy sites such as solar farms, remote telecoms sites, power, utilities and substations and Oil and Gas assets such as well heads, pumping stations and block valves.
If you're involved in securing sites such as these, make sure you register your free place on this upcoming webinar
To access the recording, please complete your details below: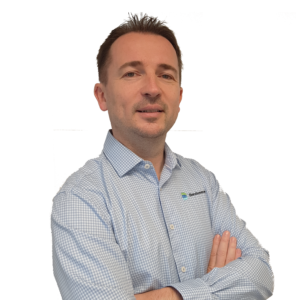 Mark has more than thirty years' experience in security and technology sectors across a variety of markets including Africa, Europe, MENA and Asia Pacific. Having initially joined the industry in a technical role, Mark quickly progressed through operational, project management and consultancy roles to business development, strategy, and sales.
Mark was previously Global Sales & Marketing Director for a risk management PLC. He led the sales team on the implementation of the company's global growth strategy utilising a range of fibre optic detection and sensing solutions. Prior to this Mark was an executive for the global security company G4S. Here, he was focused on developing the groups regional and global technology strategies.