Horizon
The Bandweaver Horizon technology is a sophisticated Distributed Acoustic Sensing (DAS) technology which forms a key part of a perimeter monitoring and intrusion detection solution.
High performance intrusion detection solution
Simple installation
Low cost of ownership
Solution immune to RFI
Event classification algorithms
High detection rate – low nuisance alarm level
100km range per system
Location to within 5m
No distributed electronics along intrusion path
2 year standard warranty
Bandweaver's Horizon solution provides detection both above and below ground from a single unit or even with a single fiber optic cable. This can be applied to covert buried, fence mounted and wall mounted perimeters.
The Maxview Horizon platform is a very versatile platform which provides information at all points along your asset. This covers both buried assets (pipelines, cables) and assets above ground (overhead power lines, fences, perimeters).
Bandweaver's extensive library of event classification engines assures that a wide variety of events can be detected before any potential threat or damage occurs. With intelligent zone configuration you are able to configure and customize according to your needs.
Main Processor
AIMB-701G2-00A1E CPU 96MPI7-3.4-8M11T1
Processor
Intel i7 3.4 GHz
BIOS
AMI 64 Mbit SPI
Memory: RAM
8GB
Memory:
2 TB (5 & 10 km ) & 8 TB (20 & 50 km models) – Solid State Drive (enquire for additional memory requirements)
GRAPHICS
Graphics Card
GeForce GTX1050 2G 128BIT GDDR5 PCI-E3.0
INTERFACES
USB
Front: 2 , Rear: 4
Serial
Rear: 1
PS/2
Front: 1 (keyboard) / Rear: 2 (1 x keyboard and 1 x mouse)
HDMI / DVI / Displayport
Yes
VGA
No
Ethernet
2x connection to Horizon DU, 1x user connection (network switch / SCADA etc.) 1x reserved (remote login / maintenance)
ELECTRICAL
Input Voltage
AC 100 ~ 240 V
Power Consumption
300W
Power Supply Safety
UL / TUV / CB / CCC
Power Supply MTBF
100,000 hours @ 25 °C
PHYSICAL
Dimensions (W * H * D)
482 x 177 x 450 mm (19″ standard rack, 4U height)
Weight
13.75 kg (19kg Shipping weight)
Shipping dimensions
600 x 330 x 565 mm
IP Rating
4
System Fan details
1 (12 cm / 77 CFM)
ENVIRONMENTAL
Temperature rating
Operating: 0° to +40 °C Storgage -20 ° to 60°C
Humidity
Operating 10 ~ 85% @ 40°C, non-condensing / Storage 10 ~ 95% @ 40°C, non-condensing
Storage Temperature
-20° to +60°C
Shock
Operating: 1Grms / Non-Operating: 2 G
Vibration (5 ~ 500 Hz)
Operating: 10 G (with 11 ms duration, half sine wave) / Non-Operating: 30 G
OPERATING SYSTEM AND SOFTWARE
Operating System
Windows 10 English Professional 64 bit
Software
SSOS
Product
Horizon 5
Horizon 10
Horizon 20
Horizon 50
Range per channel
5km
10km
20km
50km
Number of channels
1 or 2 channels possible
Ordering Part Numbers
DAS-HZ-02-05-1CH
DAS-HZ-02-10-1CH
DAS-HZ-02-20-1CH
DAS-HZ-02-50-1CH
DAS-HZ-02-05-2CH
DAS-HZ-02-10-2CH
DAS-HZ-02-20-2CH
DAS-HZ-02-50-2CH
DATA ACQUISITION
Acquisition Frequency
2kHz default ‒ 1kHz / 2kHz / 4kHz available as standard.

10kHz / 20kHz by special request (for select Horizon Units)

Event accuracy resolution***
1-5m
1-10m
2-10 m
5m – 10m
OPTICAL
Laser Wavelength
1550 nm
Optical Budget
12 dB @ 1550 nm
Connector Type
FC / APC
Cable type
G.652 / G.654
Laser Safety Classification
Class 1M
ELECTRICAL AND HARDWARE INTERFACES
Supply Voltage
220V AC (110V-240V AC), 50/60 Hz
Power Consumption
25W (typical), < 50W
Alert & Communications Protocols
MODBUS (MaxView), Email (MaxView), IEC 60870-5-104 (MaxView
Camera Integration
Yes – camera feed integration into SSOS – ONVIF as standard – enquire for other
PSIM / SCADA Integration
Ethernet TCP/IP – Software adapter module
PHYSICAL
Rack height
3U
Dimensions (W * H * D)
487 × 405 x 131 mm
Net Weight
14 kg
IP Rating
IP40
ENVIRONMENTAL
Operating Temperature
0° to +45°C
Operating Humidity
0 to 95% RH, Non-condensing
Storage Temperature
-45°C-80℃
Storage Humidity
0-90%
SAFETY AND COMPLIANCE
Laser Safety
IEC60825-1
CE – EMC
EMC 2014/30/EU ‒ EN 61000-6-3:2007+A1:2011, EN 61000-3-2:2014, EN 61000-3-3:2013, EN 61000-6-1:2007
CE – LVD
LVD 2014/35/EU ‒ IEC 61010-1:2010, EN 61010-1:2010
CE – RoHS
Yes
FDA
FDA Ascension number 1820671-000
FCC
47CFR Part 15:2017, ANSI C63.4:2014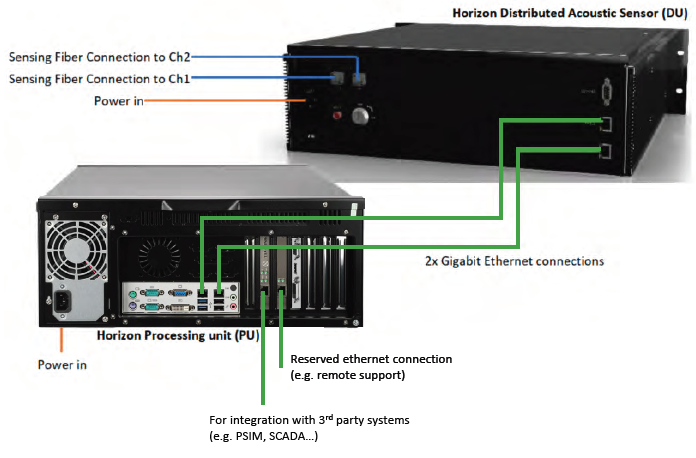 System Integration
The Maxview Advantage
Bandweaver's Maxview SCADA integration software is a proven solution to provide advanced visualization and integration with existing security technologies deployed on site. Maxview provides a system mapping function, along with real time event management.
The Horizon IPC units also provide alarm management capabilities by the use of event database management and seamless integration with other security technologies including DCS, CCTV and access control, to provide an effective integrated security solution.