We are proud to announce that BTS Yangin are now providing Bandweaver Linear Heat Detection (LHD) for the Allianz Technik Earthquake and Fire Test and Training Center in Istanbul.
The Allianz Technik Earthquake and Fire Test and Training Center is the first of its kind; a state-of-the-art training centre that provides product testing, consultation, and education to raise public risk awareness.
The centre provides hands-on training for catastrophe risk management and emergency response against earthquake and fire exposures, as well as giving test services to reduce potential risks before anything bad happens.
BTS Yangin worked closely with the customer to design a fibre optic linear heat detection system in the test room and fire training rooms. The team also developed a fully interactive demonstration that incorporated the sensing cable to show its fully distributed nature, and how rapidly it can react.
Richard Kluth, MD of Bandweaver commented, "Allianz Teknik was looking for state of the art technologies from the top providers to include in the test center and our LHD system was an ideal choice to suit their needs. Thanks to our partner BTS Yangin as always for their superb system design and support."
About FireLaser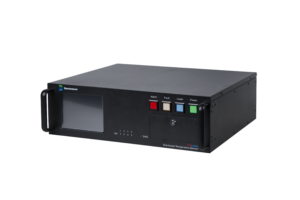 FireLaser is a Linear Heat Detector System specifically designed for use in Special Hazard fire detection applications.
The FireLaser Distributed Temperature Sensing (DTS) system connects to a distributed fiber optic cable (FireFiber). It determines temperature and distance data at thousands of points along the length of the cable. The fiber optic cable is installed within the asset to be protected and this cable acts as the sensing element. The FireLaser Sensor Control Unit is responsible for generating alarms based upon the calculated temperature profile. The FireLaser DTS can therefore detect the location of a hot spot on up to a 5km length of fiber optic cable with unrivaled precision. The system is able to monitor the movement of the hot spot, or multiple hot spots, in terms of physical position, temperature and also in real-time. FireLaser Distributed Temperature Sensing Technology provides a line type heat detector solution vastly superior to conventional copper based or multipoint heat detector.
Highly reliable embedded system technology
Cost effective solution
Network Scalable for distributed architectures
Sensor Cable suitable for use in hazardous areas
Circuit lengths up to 5000 m
Multiple hotspot location to within 1m
Intelligent Alarm Algorithms
Relay and Modbus interface options