To celebrate 20 years of success, Bandweaver are taking action on climate change by planting 20 trees in Iceland as part of a reforesting project with Mossy Earth, aiming to restore birchwoods to a degraded upland area on the west coast of Iceland.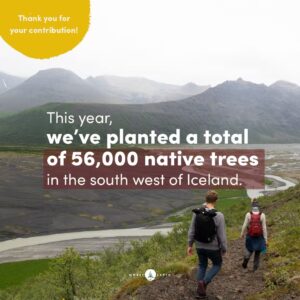 Bandweaver are playing their part against climate change to help offset their carbon footprint. With a true commitment to increasing action – including their pledges to achieve net zero targets – becoming a Mossy Earth member is the next step in Bandweaver's eco-friendly journey. By joining forces with Mossy Earth, Bandweaver are mitigating their environmental impact through restoring wild ecosystems. Each month, Mossy Earth will plant native trees on Bandweaver's behalf, and this month, 20 have gone to the west coast of Iceland, where they'll begin to restore biodiversity.
Mossy Earth are a group of passionate preservers who fight climate change by planting trees to capture carbon, rewilding habitats to support biodiversity, and supporting underfunded ecosystems and species. One of their current projects, Reforesting Iceland, aims to bring Icelandic birchwoods back to the land of fire and ice, and so far, they've already planted 56,000 trees. It is thought that 25-40% of Iceland was once covered in birchwoods, yet now it is a mere 1.5%. Bandweaver are looking forward to contributing to reversing these falling numbers.
Learn more: Project page | Aerial 360 | Biologist Walkthrough | Drone Flyover | Detailed Map
While human influence has warmed the planet at an unprecedented speed over the last 2,000 years, Bandweaver have already brought numerous new technologies and solutions to the market to help their clients cut their carbon footprint. Their next-generation fiber optic sensing technology offers game-changing capabilities to those looking to increase efficiency and reduce their carbon footprint.
The use of DTS has grown immensely in the past three decades, becoming a well-known and widely used tool for a range of environmental applications, including dam monitoring, hydro-geology, geothermal energy, renewable energy and increasing capacity and efficiency of existing electrical infrastructure. The longevity, high-frequency, cost-effectiveness, and high-frequency of these applications offer astounding possibilities for environmental monitoring. Countless industries are looking towards DFOS (distributed fiber optic sensing) technology solutions to solve both existing and emerging challenges.
Richard Kluth, Managing Director of Bandweaver, said: "Distributed fiber optic sensing offers a much more efficient and environmentally friendly alternative to installing tens of thousands of powered conventional sensors, DTS and DAS systems only use a single optical fiber as a continuous sensor, with no power required in the field. The technology has numerous environmental applications from monitoring carbon sequestration to detecting wildfires.
Mitigating our carbon footprint is something we're always pushing for, and we're delighted to be a member of Mossy Earth. We understand the importance of being an eco-friendly business delivering eco-friendly solution for eco-friendly clients, and we're passionate about making a positive change on the environment."
Click here to find out more:

WHITE PAPER: Using Distributed Fiber Optic Sensing (DFOS) to Mitigate Climate Change – [ Click here to download ]