Bandweaver and Innovative Energy are pleased to announce that they have successfully completed the contract to supply, install and commission a linear heat detection system for the state of the art refectory for a global pharmaceutical company, in Singapore.

The linear heat detection system is based on the FireLaser Distributed Temperature Sensor that is manufactured by Bandweaver. Bandweaver and Innovative Energy worked together to install and commission the system.
Vice President for Bandweaver, Chris Conway said, "It is a real honour to win such a prestigious contract to supply the latest in linear heat sensing technology in order to further safeguard the wellbeing of employees. It has also been a pleasure to work with our partners, Innovative Energy, who have both done a fantastic job in installing and commissioning the system".
Lee Siong the Managing Director for Innovative Energy said, "we are delighted to be able to work together with technology leaders such as Bandweaver. This linear heat detection system is an ideal application for the FireLaser Distributed Sensing technology and provides many key advantages over the conventional point sensor technology."
The project demonstrates how Bandweaver works together with its partners and industry leading fire protection companies to deliver state of the art fiber optic technologies which provide monitoring solutions that enhance the safety and security of critical infrastructure and personnel.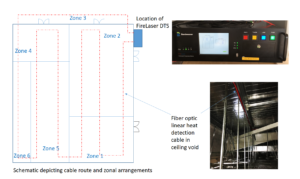 About Bandweaver
Bandweaver has been providing advanced fiber optic monitoring sensors and integrated technologies for our customers since 2002. Bandweaver has more than 300 employees and facilities in 4 global hubs and 450 projects across 6 continents. With a network of global partners to manage and support large scale projects across the world.