Gas pipeline leakage is a worldwide issue, costing up to $30 billion dollars of lost revenue and about 3% of global natural gas production each year. The implications of this are also environmental, with the methane released as a result of these leaks continuing to contribute to the worlds growing global warming problem. Whilst the most common cause for gas leakage is old and corroding pipeline, the most significant leaks are the result of third-party interference to the pipeline.
However, with a Fiber Optic Pipeline Intrusion Detection System, costly and dangerous mistakes can be effectively prevented.
Our case study, Pipeline Intrusion Detections System for Guangdong Natural Gas Pipeline, chronicles how Bandweaver's system, utilising Horizon DAS technology, was successfully implemented to monitor 145km of Natural Gas Pipeline for a construction project in Asia.
Gas Pipeline Third Party Interference Monitoring & Prevention
The client was concerned with third-party construction work going on around and adjacent to the pipeline installation, so required that any digging or excavation activity within the vicinity of the pipeline be detected and reported before any damage to the pipeline could occur. To facilitate this, Bandweaver was commissioned to provide multiple Horizon Distributed Acoustic Sensing (DAS) systems, plus Maxview integration software, to comprise the Pipeline Intrusion Detection System. The Horizon DAS units were installed at block valve stations along the pipeline route to ensure accurate and rapid response.
During the first two months of the operation, the system raised 96 alarms, with a 90% verification rate. This prevented catastrophic and costly damage, especially in one particular case, where an excavation machine dug only a few meters directly above the pipeline, damaging one of the control cables. Bandweaver's pipeline monitoring system directly prevented rupture of the pipeline, proving how efficient and important distributed acoustic sensing technology can be for safeguarding pipeline networks.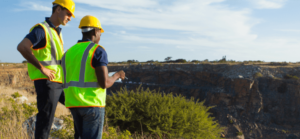 Main Benefits of Gas Pipeline Monitoring System
The case study showcases that, with Bandweaver technology, the client benefited from:
Coverage of the entire gas pipeline
Real time monitoring at all points along the length
High return on investment
Full integration, with provided MaxView monitoring software platform
Proven multiple detection of verified pipeline intrusion events, directly preventing damage to the pipeline