Bandweaver Technology are proud to announce the general launch of ZoneSentry, a new perimeter intrusion detection system that utilises state of the art fiber optic sensing technology to protect both property and assets with smaller perimeters up to 8km in an efficient and cost-effective manner.
The new ZoneSentry is a zonal based Perimeter Intrusion Detection System (PIDS) based on Bandweaver's leading edge fiber optic distributed acoustic sensing (DAS) technology. By attaching a single fiber optic sensing cable to the external perimeter of a site, or on key assets, ZoneSentry can detect and alert to the vibrations associated with intrusion events, enabling rapid action to prevent damage or theft.
>>> For further information on this product and its potential applications, Bandweaver will be hosting a webinar on Tuesday 14th June 2022. Click here to register.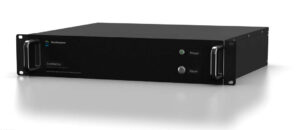 Available with 4 or 8 zones, the ZoneSentry system can integrate with CCTV cameras at both a hardware or software level. When used with Bandweaver's MaxView integration software, the solution can also interface with other security systems such as VMS or PSIM. The product addresses the growing demand for real-time monitoring and intruder detection at small and medium sized sites as well as residential settings.
ZoneSentry is a straightforward, out-of-the-box solution that requires minimal set-up, configuration and maintenance. As a result, installation time and costs are reduced and the system is operational much quicker than with alternative technologies.
Positioned as an entry-level solution, ZoneSentry offers real-time monitoring and detection along perimeters of up to 8km per unit. Furthermore, all of this is delivered at a reduced cost when compared to microwave, radar or more complex COTDR-based Distributed Acoustic Sensor (DAS) based systems.
The unique qualities of distributed fiber optic sensing technologies offer a number of key benefits, including:
Completely passive, with no moving parts, power or electronics required in the field.
Long lifetime, maintenance free cable with greater than 30 years design life
Immune to electromagnetic interference
Intrinsically safe and ideal for oil and gas sites
Zone specific tuning and filtering minimises nuisance alarms
The cost-effective design makes it ideal for use in a range of settings including renewable energy sites such as solar farms, remote telecoms sites, power, utilities and substations and Oil and Gas assets such as well heads, pumping stations and block valves.
Bandweaver Managing Director, Richard Kluth commented, "ZoneSentry provides many of the advantages of fiber optic sensing solutions at a lower price point for smaller sites where precise location accuracy is not required such as unmanned settings. More precise, location based PIDS solutions are often over specified for these scenarios, and so the ZoneSentry system provides a simple solution that delivers swift installation, minimal configuration time and easy physical integration, all with a low cost per detection metre."
Utilising fiber optic cable, ZoneSentry offers a cost-effect solution for small sites that combines swift installation, zone specific configuration and minimal maintenance. With the ability to integrate with CCTV cameras to provide visual verification of perimeter breaches, ZoneSentry provides operators with the confidence that even the most challenging, remote sites are protected.
>>> For further information on this product and its potential applications, Bandweaver will be hosting a webinar on Tuesday 14th June 2022. Click here to register.
About Bandweaver Technologies
With an installed base of over 40,000km and 5,000 systems worldwide, Bandweaver's vision is to be the first choice for integrated distributed fiber optic sensing solutions across the globe. Since 2002, Bandweaver has been committed to delivering reliable, innovative, client-centric, and value-added products and services, via a dedicated and talented team of people.
Bandweaver manufactures and distributes advanced fiber optic monitoring sensors and integrated technologies, enabling customers to monitor, secure and keep personnel and critical assets safe.
Bandweaver's solutions have been utilised for multiple applications, including road and rail tunnels and spurs as well as facility buildings, power infrastructure, escalators, and stations. FireLaser has also been utilised in a wide range of industrial applications, such as warehouses and hangars, manufacturing facilities, car parks, ceiling voids, false ceilings and cable trays and galleries.
With quality and excellence as fundamental elements of Bandweaver's portfolio, the business is continuously developing its range of technologies, including Distributed Temperature Sensors (DTS), Distributed Acoustic Sensors (DAS) and integrated smart intelligent software solutions.
Utilising the latest technologies, Bandweaver provides solutions for Security, Fire, Power, and Pipelines.
For further information please contact our global team at info@bandweaver.com