Bandweaver Technology, a global provider of fiber optic sensing solutions, is delighted to announce that they have been awarded 'Security Manufacturer of the Year' at the Fire and Security Matters Awards 2022.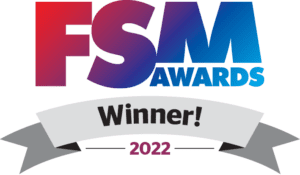 The inaugural Fire & Security Matters Awards took place at the Coventry Building Society Arena on the evening of 28th April 2022. Run in conjunction with the Fire Industry Association, the awards are designed to honour and recognise organisations, teams, and individuals from across the UK that demonstrate excellence and innovation in the fire and security sectors.
There were 14 awards categories on the night, of which Bandweaver Technology was awarded 'Security Manufacturer of the Year'. Richard Kluth, Managing Director and Mark Horton, Vice President of Bandweaver Technology were there on the night to collect the award.
Richard said: "We are delighted to have won this award tonight, it is a tremendous result for our company. The awards recognise key contributions to the development of the industry, and we were delighted just to be shortlisted amongst other organisations of such high calibre."
The Security Manufacturer of the Year category is designed to recognise a "manufacturer of security systems that has gone above and beyond in its commitment to innovation and/or its systems meet the highest standards."
Bandweaver's success recognises the company's commitment to delivering industry-leading, client-centric, and value-added products and services, via a dedicated and talented team of people. The recognition received at the Fire and Security Matters awards is a testament to Bandweaver's ability to innovate and go 'above and beyond' on many fronts.
Richard added, "Achieving this award is not only excellent news for Bandweaver, but a great testament to the hard work and diligence of our team as well as our valued partners."
Mark commented, "The award entry submitted by Bandweaver focused on their Horizon 10km Distributed Acoustic Sensing (DAS) system and highlighted the company's ongoing commitment to innovation, by evolving their product range to suit the changing needs of our customers."
Read more here: https://securitymattersmagazine.com/winners-of-the-2022-fire-security-matters-awards-announced-at-gala-ceremony
About Bandweaver Technologies
Bandweaver is a specialist manufacturer of fiber optic sensing systems, designed to protect critical assets, personnel, and premises. The company works at the forefront of technology and innovation to deliver products that exceed customer expectations.
The company have a vision to be the first choice for integrated distributed fiber optic sensing solutions across the globe.
With quality and excellence as fundamental elements of Bandweaver's portfolio, the business is continuously developing its range of technologies, including Distributed Temperature Sensors (DTS), Distributed Acoustic Sensors (DAS) and integrated smart intelligent software solutions.
Utilising the latest technologies, Bandweaver provides solutions for Security, Fire, Power and Pipelines.
For further information please contact our global team at info@bandweaver.com