Earlier this month, Prime Minister Boris Johnson declared that the ban on the sale of petrol, diesel and hybrid cars is to be brought forward by 5 years to 20351. Although a positive move for the environment, it has brought concern to the industry about how this change will affect the national power grid.
With everybody going green, an increased demand in electricity to power each vehicle is inevitable, raising two questions – how much will it cost, and can the UK's infrastructure provide the additional capacity?
A 'Future Energy Scenarios' report2, produced by the National Grid predicts that electricity demand per year from road transport could rise from approximately 1 terrawatt hour (TWh) to up to 96 TWh between 2020 and 2050.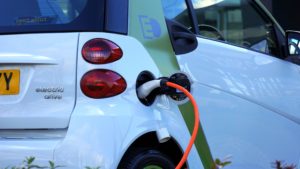 This is not a new challenge – elsewhere in the world Bandweaver is already ahead of the curve, with solutions in place in the Indian market that enable energy providers to keep the strain on the power grid to a minimum. By using the latest advanced fiber optic monitoring sensing technology, Bandweaver's solutions supervise the performance and efficiency of power cables, which include overhead, buried, and in buildings.
They are monitored by using a Real Time Thermal Rating system (RTTR), which enables clients to forecast and anticipate any issues that could happen before they occur. This prevents potentially disastrous situations occurring, like power failures or blackouts from happening. Furthermore, the solution enables maintenance to be streamlined, anticipating where an engineer needs to be dispatched to carry out any work that might need to be done and so reducing time taken from otherwise running manual checks.
Bandweaver's RTTR solutions enable cable cyclic cable rating enhancements of 35%
Bandweaver already supports a range of clients in the UK power sector, including Scottish Power. The Whitelee Windfarm currently utilises an RTTR solution, which is the UK's largest onshore windfarm generating 539 megawatts of electricity from its 215 turbines. That's enough to power around 300,000 homes.
With a global drive for eco solutions, Bandweaver are at the forefront of the industry, utilising advanced fiber optic sensing technology to support the UK's pursuit of cleaner energy and the subsequent changes in demand on the national grid.
About Bandweaver
Bandweaver's vision is to be the first choice for integrated distributed fiber optic sensing solutions across the globe. Since 2002, Bandweaver has been committed to delivering reliable, innovative, client-centric and value-added products and services, via a dedicated and talented team of people.
Bandweaver manufactures and distributes advanced fiber optic monitoring sensors and integrated technologies, enabling customers to monitor, secure and keep personnel and critical assets safe.
With quality and excellence as fundamental elements of Bandweaver's portfolio, the business is continuously developing its range of technologies, including Distributed Temperature Sensors (DTS), Distributed Acoustic Sensors (DAS) and integrated smart intelligent software solutions.
Utilising the latest technologies, Bandweaver provides solutions for Security, Fire, Power and Pipelines.
For further information, please contact: marketing@bandweaver.com
 1 https://www.bbc.co.uk/news/science-environment-51366123
2 https://www.investorschronicle.co.uk/company-news/2020/02/12/is-the-uk-ready-for-electric-cars/