In response to recent growth, Bandweaver is delighted to welcome Marinus de Heijde to the Bandweaver team as their new Business Development Manager who brings with him 20 years' experience in the fire safety sector.
As a key member of the team, Marinus will be responsible for accelerating Bandweaver's already impressive growth by developing and executing sales strategies and building relationships with key decision-makers. He will also be working with existing customers, maintaining and developing key relationships in Europe.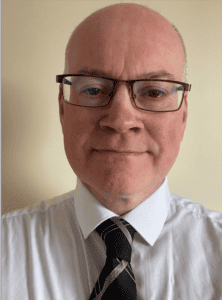 Marinus joins Bandweaver from Biosite Systems Ltd where he was the Business Development Manager (Export). In his time there, he was responsible for the sale of all fire safety products in Europe and set up exclusive distributors in The Netherlands, Belgium, Denmark and UAE whilst also selling direct and indirect in Ireland, Sweden and Germany.
Of his appointment, Marinus commented, "I am very excited about expanding Bandweaver's presence across Europe as we believe there is a massive opportunity here, especially the Nordic countries. I am also looking forward to exhibiting at VdS-FireSafety Cologne this December, where Bandweaver will be showcasing our linear heat detection solutions to the German fire safety market."
As an international sales manager with over 25 years of experience, Marinus has extensive experience in the fire safety sector with the supply of critical components to vehicle builders and fire safety companies in Europe and the Middle East. More recently he has also ventured in the supply of fire alarm and evacuation systems through a network of international distributors.
He brings with him additional experience in all aspects of exporting goods on a global basis, including logistics, marketing and budgets. Marinus's skill set is particularly suited to the Bandweaver's European client base as he is also fluent in English, Dutch and German as well as intermediate French.
Richard Kluth, Managing Director of Bandweaver, says: "We couldn't be more pleased to have Marinus join Bandweaver. His extensive skills in the sale of fire safety products and rich experience in global sales will make him a unique and highly valuable member of our team, and we look forward to expanding our business and building key relationships with the help of Marinus' expertise."
About Bandweaver
With an installed base of over 60,000km and 7,500 systems worldwide, Bandweaver's vision is to be the first choice for integrated distributed fiber optic sensing solutions across the globe. Since 2002, Bandweaver has been committed to delivering reliable, innovative, client-centric, and value-added products and services, via a dedicated and talented team of people.
Bandweaver manufactures and distributes advanced fiber optic monitoring sensors and integrated technologies, enabling customers to monitor, secure and keep personnel and critical assets safe.
Bandweaver's solutions have been utilised for multiple applications, including road and rail tunnels and spurs as well as facility buildings, power infrastructure, escalators, and stations.
Utilising the latest technologies, Bandweaver provides solutions for Security, Fire, Power, and Pipelines.
For further information please contact our global team at info@bandweaver.com