HMA Group in South Africa recently won a project to deploy 3 FireLaser DTS to monitor several conveyor belts in a mine, these will be utilised for early detection of fire and ensure a rapid response to any alert. The DTS controllers will also be connected to the Bandweaver MaxView integrated software platform which will provide operators of the exact location of any potential fire.

The client are very satisfied and they asked for a quotation for another section to be done.
Dieter Spangenberg of HMA Group said "Bandweaver is a real game changer in the market. They are very professional and efficient, and the product quality is excellent. We have an advantage in the market to be able to give competitive pricing to our clients, and have the support and back-up always available when needed."
Mark Horton of Bandweaver commented "It's great to be partnered with HMA Group who provide wide geographical coverage across Africa and we look to use this case study project to jointly secure further wins in this sector."
About FireLaser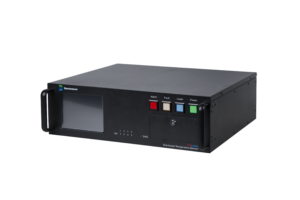 FireLaser is a Linear Heat Detector System specifically designed for use in Special Hazard fire detection applications.
The FireLaser Distributed Temperature Sensing (DTS) system connects to a distributed fiber optic cable (FireFiber). It determines temperature and distance data at thousands of points along the length of the cable. The fiber optic cable is installed within the asset to be protected and this cable acts as the sensing element. The FireLaser Sensor Control Unit is responsible for generating alarms based upon the calculated temperature profile. The FireLaser DTS can therefore detect the location of a hot spot on up to a 5km length of fiber optic cable with unrivaled precision. The system is able to monitor the movement of the hot spot, or multiple hot spots, in terms of physical position, temperature and also in real-time. FireLaser Distributed Temperature Sensing Technology provides a line type heat detector solution vastly superior to conventional copper based or multipoint heat detector.
Highly reliable embedded system technology
Cost effective solution
Network Scalable for distributed architectures
Sensor Cable suitable for use in hazardous areas
Circuit lengths up to 5000 m
Multiple hotspot location to within 1m
Intelligent Alarm Algorithms
Relay and Modbus interface options